Skip to Content
Artificial Disc Replacement Procedures in Las Vegas, NV
What is Artificial Disc Replacement Surgery?
Artificial disc replacement (ADR) is a spine surgery to return and preserve motion to your spine by removing painful, damaged spinal discs and replacing them with artificial discs. The process can be performed in the lower back (lumbar spine) or the neck (cervical spine). Our spine's natural motion can wear down discs over time, causing severe pain and discomfort, and limiting our motion. The ADR procedure replaces the degenerative discs and restores movement and comfort. After receiving FDA approval in 2004, they have been used to help thousands of people overcome spinal issues and limited movement. At the Spine Institute of Nevada, we're proud to provide artificial disc replacement surgeries for patients throughout Las Vegas, NV. Learn more about artificial disc replacement and how we can help you overcome spinal discomfort, pain, and limited movement.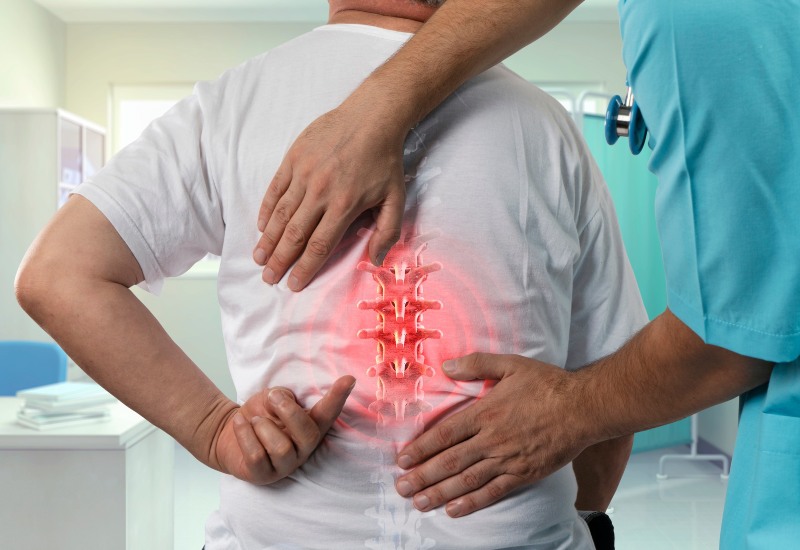 Advantages of Artificial Disc Replacement
There are many advantages of ADR procedures. This innovative surgery is a great alternative to conventional spinal fusion surgery, which is considerably more in-depth and requires a significantly longer recovery time. Advantages of artificial disc replacement surgery include:
Maintain normal neck motion
Eliminates the need for bone graft
Reduces degeneration of adjacent parts of the spine
Quicker recovery time
Post-Surgery
Artificial disc replacement surgeries usually take two to three hours to complete. After the surgery, you will awaken in the postoperative recovery area, where we will monitor your blood pressure, respiration, and heart rate. Most patients who are having one or two discs replaced will be sent home the same day of the procedure. However, if you are experiencing unstable blood pressure or difficulty breathing, we may suggest you stay overnight for further monitoring. You may experience hoarseness, sore throat, and difficulty swallowing for one to four weeks following your procedure. We will recommend physical therapy during your recovery period to strengthen your back muscles and increase mobility.
You may require help with daily activities, such as dressing and bathing. But most patients will be able to care for themselves. We encourage walking short distances to increase your movement and recovery.
 Recovery Process and Future Prevention
Recurring neck and back pain is extremely common. It's important to take precautions and preventative techniques to avoid causing further back and neck issues. Some of the most important techniques to prevent back and neck problems down the line include:
Ergonomic seating and work area
Practicing proper lifting forms
Practicing good posture while sitting, standing, walking, and sleeping
Creating and sticking to a healthy exercise program
Maintaining a healthy nutrition plan
Managing stress
Avoid smoking
 Contact Us Today to Learn More
Have you been experiencing severe, chronic neck or back pain? Have other treatments failed to remedy issues, or do you find your pain keeps coming back no matter what you do? You may be a candidate for artificial disc replacement surgery. It all starts with an in-depth consultation and diagnosis of your condition. Schedule your appointment with your physician or our office today to get started on the road to recovery. Everyone's body is different and requires a unique approach to alleviating stress, pain, and discomfort. Call the Spine Institute of Nevada today.
Get the Help You Need for Your Spine Condition