Skip to Content
Cervical, Thoracic, & Lumbar Fusion Surgery in Las Vegas, NV
Learn About Spinal Fusion at the Spine Institute of Nevada
At Spine Institute of Nevada in Las Vegas, we offer a variety of advanced spinal procedures, including cervical, thoracic, and lumbar fusion surgeries, to treat various types of pain conditions. Archie C. Perry Jr., MD, is a board-certified orthopedic surgeon specializing in spinal disorders and surgical treatments to improve his patients' comfort and quality of life. If you or a loved one is suffering from chronic back pain caused by a degenerative condition, a fracture, scoliosis, kyphosis, or any other spinal-related issues, contact us to schedule a consultation to learn about treatment options today.
Fusion Surgery for All Parts of the Spine
Back and neck pain is usually caused by damage to the bones, tendons, ligaments, and muscles around the spine. After an accurate diagnosis of the condition causing the patient's pain, our team will recommend the best treatment procedure. If it is a vertebrae issue, we may recommend spinal fusion surgery. The location of the affected vertebrae will determine the type of surgery required.
Cervical Fusion Surgery
The cervical area of the spine is in the neck. Sometimes, cervical discectomy and fusion are required, which means removing a herniated or diseased disc followed by fusion.
Thoracic Spinal Fusion
The thoracic area is the middle portion of the back. It is a common area for issues, and the thoracic spinal fusion success rate is between 70% and 95%. Every patient is different, and there are many factors that will play a role in the overall success.
Lumbar Fusion Surgery
Pain located in the lower back is treated with lumbar fusion surgery. It is a standard procedure to treat degenerative disc disease.
How Does Spinal Fusion Surgery Work?
Fusion surgery is a modern surgical method to treat various spine problems. Unlike past procedures that used screws or pieces of metal to stabilize damaged or diseased vertebrae, modern fusion surgery uses bone from either the patient or a bone bank to create a bridge between two areas. Using natural bone encourages growth between fused bones. The fusion also prevents movement in the area and relieves the pain as the bones heal. It is a very common procedure that alleviates pain caused by many spine conditions.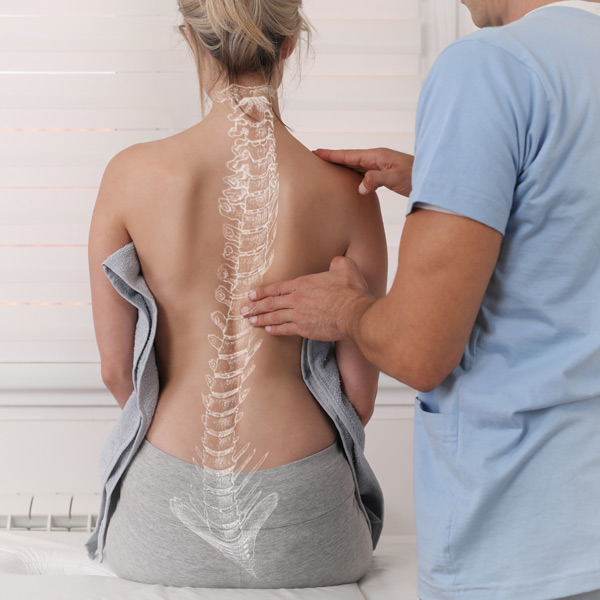 Conditions That May Require Spinal Fusion Surgery
Chronic and acute back pain is prevalent among individuals of all ages. The spine supports a person's weight and depends on construction of many bones, tendons, and ligaments that work together. Even the slightest pull, tear, or misalignment can cause incredible pain throughout the neck, back, and legs. We can heal many of these injuries through physical therapy and exercise. However, the following conditions may require spinal fusion surgery:
Degenerative disc disease
Kyphosis
Fractured vertebrae
Herniated discs
Infections
And more
Recovery After Cervical, Thoracic, and Lumbar Fusion Surgery
When a patient undergoes cervical, lumbar, or thoracic spine surgery, recovery time will vary depending on the scope of the process and the conditions treated. The Spine Institute of Nevada team works with each patient to outline a post-operative care plan to ensure the highest success rate for spinal fusion. Patients will be required to wear a brace afterward to help keep the vertebrae together during the healing process. After the procedure, it will take the bones about three to six months to heal, possibly longer fully, and physical therapy will start about six weeks after surgery. There are not so many permanent restrictions after spinal fusion except for extreme conditions.
Schedule a Consultation for Spinal Fusion Surgery
If you are suffering from back pain or a spine condition and non-surgical options do not work to alleviate pain, you may be a candidate for cervical, thoracic, or lumbar spinal fusion surgery at the Spine Institute of Nevada in Las Vegas. We have three locations in the area with board-certified orthopedic surgeons who put your care and comfort above all else. Contact us at one of our three offices to schedule a consultation today.
Get the Help You Need for Your Spine Condition